Meet Dr. Caroline Taylor B.Sc., D.C.
Serving Our Area With Natural Care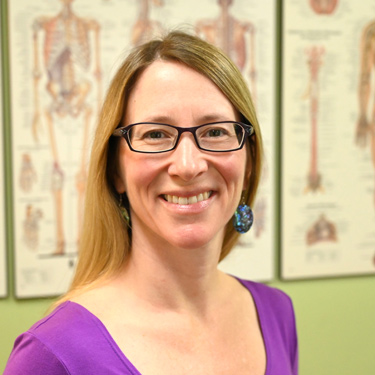 Since 2004, Dr. Caroline has provided chiropractic care to our community. She moved to Port Hope from her hometown of Brampton. At Whale Family Chiropractic, she works with her husband Dr. Robin and their support staff and therapists.
She sees a wide range of ages and has a focus on pregnant moms, as well as children and young families. By starting chiropractic care early, your kids can have the best possible start in life. Her experience in this area is complemented by a series of pediatric and prenatal courses, and she updates her skills regularly.
A Love for Helping Others
Dr. Caroline draws inspiration from providing authentic service and assisting others. She desires to help you live the life that you love. As a social person, she enjoys creating lasting relationships and witnessing practice members heal, grow and evolve.
"Being a chiropractor is about much more than adjusting spines and offering lifestyle advice. It's about how a family's life transforms as they recapture the vitality to do more of what they love." Dr. Caroline wants to help you live in congruence with your values. She feels it is a privilege to be a part of this process.
CHIROPRACTIC CARE »

Embodying a Healthy Lifestyle
When she isn't in the practice, Dr. Caroline is taking care of her family's home. Her son, Emerson, brings her immense joy (along with pain, as all parents know). You might see them at the farmer's market in the summer, going on bike rides together or enjoying the town parks. She loves being a mother and wants to raise a conscious, healthy child.
Additionally, Dr. Caroline likes to express herself through singing, dancing and acting. Her most recent productions were a Radium Radio production and Snowdragon's Storm, a production written by a local woman that raised money for kid's mental health.
If you've been considering making changes to your life, Dr. Caroline is here for you. Contact us today to schedule your appointment!

Chiropractor Port Hope | (905) 885-7460